Timesheets, expenses, invoices, planning - online system Orario
Orario application is a complex online system to work with timesheets, expenses, invoicing, planning and more. The application is simple to use but offers many useful features. It communicates in english and czech languages however it is easy to add another language.
Timesheets
Employees (consultants) can enter the spent time to timesheets. Orario offers weekly timesheet where all the information can be stored very quickly and easily but still with the full information. It is also possible to use a detail timesheet where the data is edited by lines. Timesheet information is entered for combination of project, task and activity, it is possible to enter start and end time and comment.

Expenses
Employees enter their reimbursable and non-reimbursable expenses, they can use any currency as the system automatically processes most major currencies (over 30) and converts the amounts if necessary.
Invoicing
You can create an invoice and calculate all the chargable amounts for your customer. Invoices are created for each project, you can select which tasks you want to invoice and also the end date (typically end of month). The system will include all the timesheet records, calculate chargable amount for each of them and also include all the reimbursable expenses.
The calculation of the chargable amount for each timesheet record is a complex process. First the system reads the rates setup defined by the user (typically by a project manager). Then it checks how much from the task budget is left, then it returns the amount. If there is no budget left, the timesheet record is not charged to the customer.
Reports and analysis
The system provides several reports for timesheets and invoices. Also it is possible to analyze the data, for example task profitability report etc.
Planning
You can also use the planning module where you can see the allocations of all the consultants on projects. Consultants are shows using their shortcuts (optional) on the left side, for each of them you can see the planning for next few weeks or months. This container incl. the colors is possible to modify using setup.

User roles
The number of users is unlimited, each user has a role such as administrator, project manager, planner, accountant, normal user. Based on the role the user has rights to work with some modules.
Demo
Click this image to start demo: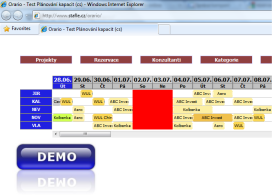 Contact
Contact us
for more information.